850 MG. OF CBD WILL CHANGE YOUR ROUTINE. FOR GOOD!
PRE ORDER'S CURRENTLY
SOLD OUT!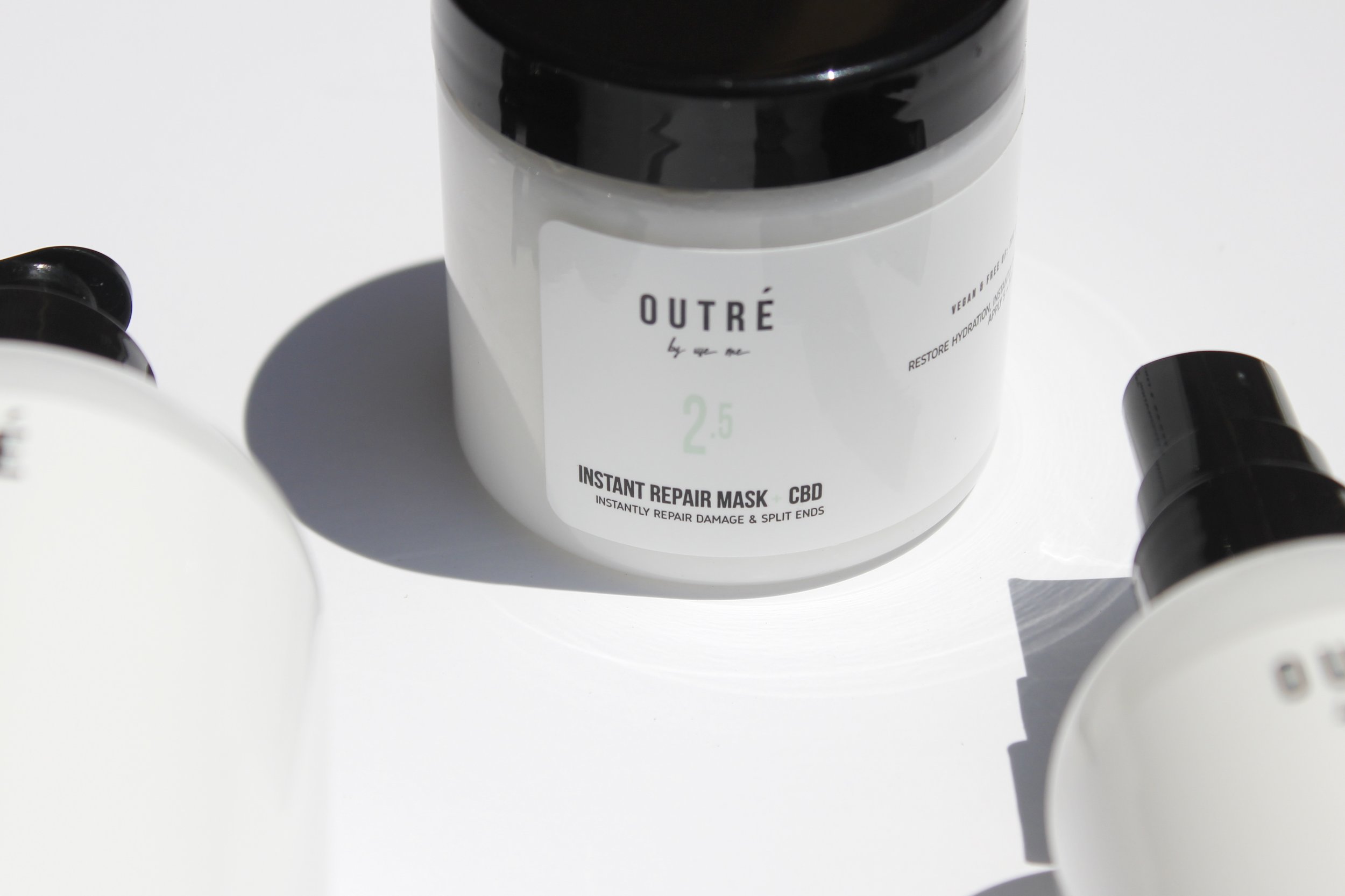 INSTANTLY REVERSE DAMAGE, INCREASE COLLAGEN AND ELASTICITY
CBD provides the truest form of omega's 3,6 & 9 and deposits over 21 amino acids on contact!
ANTI-STRESS COMPLEX
OUTRÉ by use me creates a rich combination of 850 mg. broad spectrum CBD and hemp seed oil that we like to call the "ANTI-STRESS COMPLEX".
CBD is known to curb headaches and anxiety when it comes in direct contact with your skin.
Hemp Seed Oil carries one of the highest levels of antioxidants including omg 3,6 & 9 which can eliminate dry, itchy scalps.
GOOD NEWS!
WE ARE VEGAN & FREE OF:
SULFATES: a salt or ester of sulfuric acid, containing the anion SO42− or the divalent group —OSO2O— A health hazard carcinogen
PARABENS: any of a group of compounds used as preservatives in pharmaceutical and cosmetic products and in the food industry. They mimic hormones & are linked to cancer(s)
GLUTEN: a substance present in cereal grains, especially wheat, that is responsible for the elastic texture of dough. A mixture of two proteins, it causes illness in people with celiac disease
DMDMH: DMDM hydantoin is an antimicrobial agent and preservative. It increases the shelf-life of cosmetics (e.g. shampoos, skincare products, hair gels, etc) by "releasing" formaldehyde and thus killing bacteria.
PHTHALATES: a family of industrial chemicals used to soften PVC plastic and as solvents in cosmetics and other consumer products, can damage the liver, kidneys, lungs, and reproductive system
CRUELTY: when labs use harmful acts of hurting animals to get cosmetics approved for quality assurance before they hit mass sales.
We make products safe for every person in your home. We love it so much, we even rub the extra bit in our hands or behind our neck for the amazing anti-inflammatory properties!
Why We Chose CBD
Unlike THC, CBD does not bind to the CB1 & CB2 receptors. Instead CBD surpasses the enzyme fatty acid that naturally occurs in our bodies already. Benefits for your scalp and hair are plentiful which is why we wanted to make our healthy hair care line a little more mindful.
Your Hair Care Benefits:
Strengthen hair, combat damage, rebuild collagen and elasticity. With over 21 amino acids you will add shine, heat protect, save color and add body with the power of omega's. Cleanse smog and other pollutants that clog between your follicle with Vitamins A, C + E. Not to mention, hair growth will flourish with blood circulation increased by [yours truly]…CBD!
What Is CBD?
CBD, also known as cannabidiol, is a naturally occurring plant compound derived from the cannabis plant. While CBD is found in the marijuana plant, it is both completely non-psychoactive (won't get you high) and legal to buy in its isolated form.
CBD oil contains all 21 known amino acids, which are the building blocks of protein which helps to build up collagen and elastin, which are essential to hair strength. CBD oil is high in antioxidants like vitamins A, C, and E which are essential to fighting free radicals in everyday life. Essential fatty acids like Omegas 3, 6 and 9, are a huge component that helps prevent moisture loss and keep hair hydrated. Your color will love one of the amino acids in CBD Oil, tyrosine, this is what keeps color from fading!
These are great, right? Well it doesn't even compare to the skin and health benefits you will get too! From subsiding dry/ itchy scalp, to blood circulation to increase hair growth CBD works wonders for your scalp to ensure it stays healthy, happy and delivers top notch anti-inflamatory properties
WE CARE ABOUT YOUR HAIR. WE CARE ABOUT YOU LIFESTYLE. WE CARE ABOUT SAFETY.
WE FORMULATE ALL OF OUR PRODUCTS IN A USDA CERTIFIED ORGANIC LAB IN THE U.S.